Why choose a full face helmet?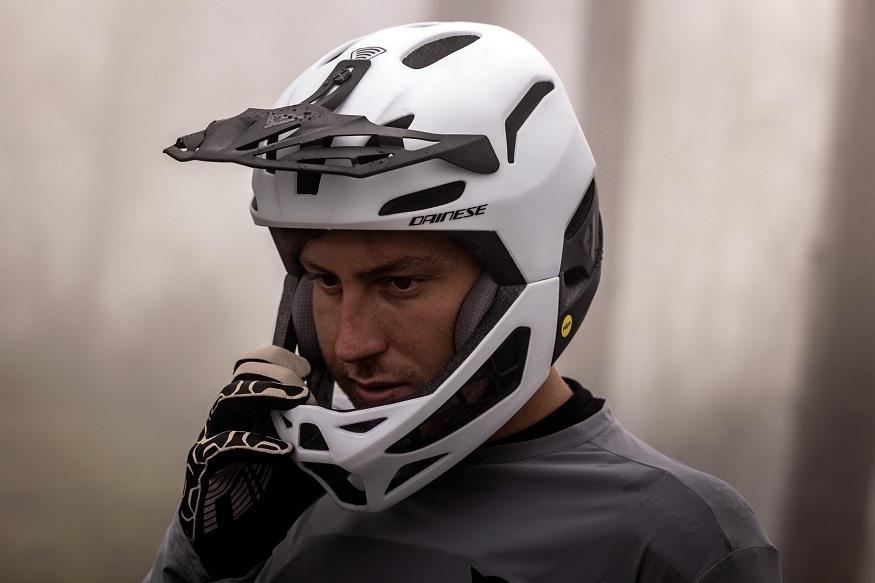 the most covering model, and therefore the most protective . It is completely closed and protects the whole face, jaw included. It is mainly used by sports or road drivers, on roads where high speed requires maximum protection. It also protects against the wind, the cold in winter and insulates against parasitic noise , but these insulating properties can make it difficult to wear when it is hot. Many models exist at various prices in the catalog of the best brands such as Shark, HJC, Astone or even AGV.
Why choose a jet helmet?
Jet helmets  have less coverage and are more suitable for summer or city driving , when speed is limited. A jet helmet is lighter, better ventilated and often more aesthetic than a full face helmet. It allows a wide field of vision and to feel the wind on your face. It is perfect for drivers of mopeds or small two-wheelers whose speed is limited, and the most compact can also be stored without problem in a scooter trunk. On the other hand, it offers a lower level of protection , especially in the event of a frontal impact, since it does not protect the face or the chin . There are many models of jet and demi-jet motorcycle helmets and jet touring, don't hesitate to compare the Fox, Alpinestars, Kenny, Thor…
Why choose a modular helmet?
Modular Helmet
The modular / convertible motorcycle helmet (or crossover helmet) is a hybrid between the full face helmet and the jet helmet. Thanks to the possibility of raising the chin bar , it can be worn in all seasons and goes from town to road without any problem. It thus offers both the protection of a full-face helmet and a wider field of vision. Despite everything, it is often heavier, not all models offer the possibility of raising the chin bar and this is a criterion to which you will have to pay attention when choosing from the brands Astone, Roof, Shark, X-Lite, Nolan, Hjc…
Why choose an off-road helmet?
The cross helmet  is intended for cross or trial enthusiasts . It is a type of light helmet , with a streamlined and sporty design , which allows you to have a wide field of vision. It is well ventilated but often makes it necessary to wear glasses or a suitable mask. The level of protection varies from one model to another and it is necessary to compare the options of off-road helmets before making your choice.
All motorcycle helmet purchase criteria
A helmet must be adapted to your head circumference , but the comfort will also depend on the shape of the helmet. Also be careful to choose a slightly small helmet: over time the interior foam will settle and the helmet will be more comfortable. On trial, a helmet should not be so tight that it hurts your forehead or ears, but you should feel a slight pressure on your temples and cheeks and the helmet should not move when you turn your head. Be aware that, like walking shoes, a helmet can be uncomfortable to wear when new. It will become more comfortable, and perfectly adapted to your head, over the kilometers . On Speedway.fr we offer motorcycle helmets for women  adapted to their morphology.
Check out our helmet sizing guide  to learn more about choosing your motorcycle helmet size.
The weight
The weight of a helmet varies depending on the materials used .Modular helmets are generally heavier than full-face helmets with an average of 1600g, but they can reach 1800g. The weight of a jet helmet, on the other hand, is more around 1100-1200g. The difference seems small, and yet it has its importance, especially during long journeys or at high speed where the effort to stand facing the wind is increased tenfold. In order to avoid muscle fatigue and not hamper head movements, choose a helmet whose weight is reasonable for your morphology.
Ventilation
The ventilation of a motorcycle helmet is essential to allow the evacuation of fog , but also to avoid overheating in the helmet in summer . While choosing a highly ventilated helmet may seem like a good idea, beware: ventilation systems increase the noise that can bother you while riding. Certain systems such as the double screen of the visor also make it possible to limit fogging. Feel free to read user reviews on the different models to get an idea.
Helmet approval: an obligation
Wearing a helmet is a legal obligation  : Article L. 431-1 of the Highway Code requires the driver and any passenger to wear a helmet approved by the European standard ECE 22.05 , i.e. meeting the minimum safety requirements (shock absorption, retention system, etc.). Each type of helmet has its approval identified by a letter:
NP for modular helmets.
This approval mark is on a white label sewn into the helmet, make sure it is present before any purchase.
Find out how to recognize an approved helmet.
The level of safety depends on the type of helmet chosen: a full-face helmet will protect you better than a jet helmet. It's up to you to assess the level of protection and comfort desired according to your use of the motorcycle (city or road) and the external conditions with which you are confronted (weather conditions, road conditions, etc.).